It's Fridayyyyyyyy and I am leaving for Seattle right after work to be reunited with my old college roomies!
Back when we were babies and graduating from Willamette in 2009.
I am quite excited.
They're all doing awesome things with their lives like graduating from PT School and Law School and raising a puppy, basically just being cool; and I'm over here like, I've got this blog?! It's cool though, I'm totally not jealous, just excited we get to celebrate together :)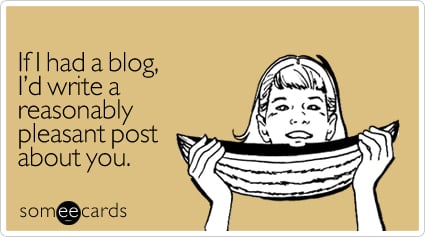 ::Never not funny.
Celebrities
reading mean tweet about themselves -take 4.
::Why 30 is not the
new 20.
::59 reasons we're going to miss
the Office.
::No. Shut up.
Stop sabotaging yourself
.
::
This
article has me thinking that maybe I need to reevaluate some of my beauty choices now.
::Only in
Portland.
::Don't just stand there at the
gym
.
::Lastly,
this song
came on when I was jammin' out to Boyz II Men pandora the other day. God, I LOVE THIS SONG!!!
Warning: Just listening to this song may get you pregnant.
Have a good weekend, folks!
Cheers!
<3 BB